What libraries do for us – and me
Libraries' huge contribution to children's literacy is threatened by swingeing cuts across the country. Where is the outrage?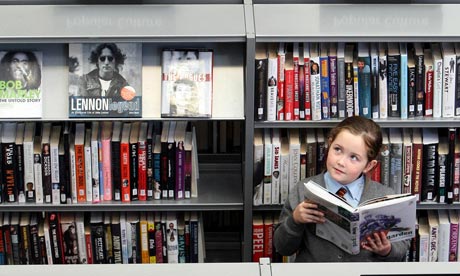 To paraphrase a famous scene from Monty Python's Life of Brian, what do libraries do for us? Well, they introduce many into the world of literacy and learning and help to make it a lifelong habit; they equalise; they teach empathy and help us to learn about each other; they preserve our cultural heritage; they protect our right to know and to learn; they build communities; they strengthen and advance us as a nation; they empower us as individuals.
While I appreciate that in these austere times all local authorities are seeking to make savings, there is surely a strong argument for library services, and in particular children's library services, to be ringfenced against such cuts. Indeed, the 1964 Libraries Act states that every authority must provide a "comprehensive and efficient" library service, and that the government's duty is to investigate when there are serious complaints that this is not the case. Yet this government has not once seen fit to intervene, not even in Gloucestershire, where nearly half the libraries were scheduled for closure, and Herefordshire, where swingeing cuts to the public library service were initially proposed.
Recent figures from Public Libraries News show that nearly 105 UK libraries have either been closed or left local authority control since April 2012.
Libraries are the best literacy resource we have. For children they provide an equaliser that allows everyone access to books, story-telling sessions, homework clubs; expert librarians who give non-partisan assistance and advice regarding books; and warm and safe environments within which to discover and explore the world of literature. Libraries switch children on to a love of reading, with all the ensuing benefits, and can make them lifelong readers. Without them, literacy may increasingly become the province of the lucky few, rather than the birthright of everyone.
• This article was amended on 23 September 2013. An earlier version said that Medway council had confirmed closure of seven out of 15 branches. Medway has no plans to close any of its 16 libraries. The article also said swingeing cuts to the library service were initially proposed in Hertfordshire. That reference should have been to Herefordshire.